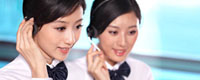 Name: Ms.Lorla Yuan
Tel: +86 133 8032 5131
E-mail: sales01@kly-tech.com
Add: 7th Floor 79th building,Chentian Industrial, Xixiang,Bao'an,Shenzhen,China518102
Skype: kuleyotech
QQ: 244485727




Product name : QI3016-Fast wireless charge

Product No. : QI3016
Details:
Features:

1. Wireless charging: just place down your smart phone on this charger and charging start at once with quick response

2.Fast charger response: charging speed 1.4 times faster than standard wireless charging pad

3.Sleek and compact design, easy for carry

4.Built-in over-voltage, under-voltage and short circuit protection

5.Input: 5V/2A, 9V-1.67A

6.Output: 5V/1.5A, 9V 1A

7.Power source: 5V 2A USB home charger(recommended)
8.
Charging effective distance:≤6mm
9.
Coversion: ≥73%

10. Compatible with: Samsung Galaxy S7/S7 Edge/Note 5/S6/S6 Edge/S6 Edge Plus, LG G4,
Nexus 6, Moto Droid Turbo, Nokia Lumia 1020/920/928, Other Qi-Enabled smart phones, Tablets and other devices, or smart phones equipped with a wireless charging receiver